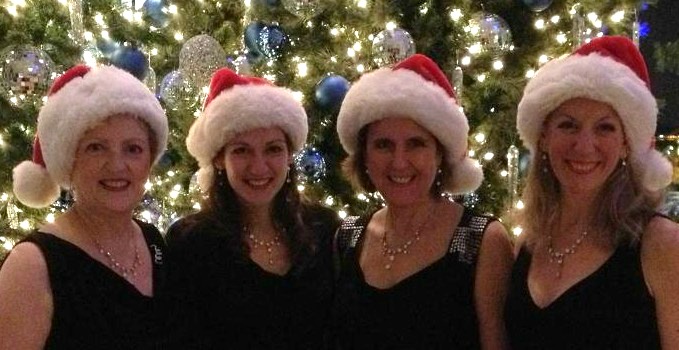 Fandango Quartet is one of Vancouver, B.C's most sought-after holiday performance groups. A vibrant and energetic performance ensemble singing a cappella four-part harmony together since 1999, Fandango Quartet's extensive repertoire of seasonal selections and harmonic interpretations of the holiday classics add a unique flair to any holiday event.
Fandango Quartet has entertained at almost every conceivable venue and occasion both indoors and outdoors: office parties, community events and festivals, on escalators, mountain gondolas, in restaurants, stores …the list goes on.  No matter where they perform, (or in what weather conditions!), Fandango always gives a professional presentation, delivered with humor and pizzazz.  Fandango's performance style is completely flexible and since they sing a cappella – just voices  – with no other accompanying instruments – it allows them to sing virtually anywhere!
TO BOOK FANDANGO QUARTET, CALL JAN CARLEY, PERFORMANCE COORDINATOR   604 873-1763
or Email:  bookings@fandangoquartet.com
*Fees are negotiable depending on length and style of performance.